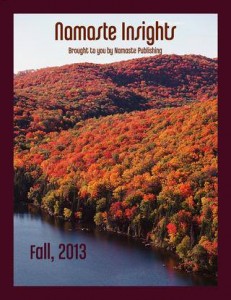 I am blessed to work with people whose commitment to changing their life or relationships is sincere. Their commitment, courage, and willingness to make different choices results in more happiness and satisfaction in their life and their relationships. You can read my client's expressions of gratitude they have shared with me and one client went so far as to share her gratitude for the results of our work together in an article she wrote for the newsletter "Namaste Insights Fall 2013".  
In her article (beginning on page 27), Johanna Maaghul shares her story and how working with me gave her both practical insight and new tools to transform challenges in her life and in her marriage. As Johanna shared in her article, working with me gave her both a new understanding of her power as a woman and a marriage partner, as well as a powerful way to engage what challenged her in life and relationship.
Kudos to you Johanna for your commitment to happiness in your life and marriage as well as sharing your story so others may be inspired to understand how challenges can be a powerful gift, even a blessing.