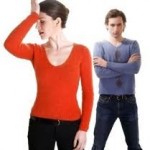 Mid-life is a time of changes….changes we initiate and changes that surprise us.  Our body seems to develop it's own mind, our mind begins to have a memory like swiss cheese, and marriages that seemed rock-solid begin to develop cracks.  Ahhh…..the joys of mid-life.
Marriage, not unlike life, has cycles for changing and growing. Marriage in mid-life challenges both parties to claim what is true for themselves, to share this knowledge with each other,  and to create a union of honoring the sacred of each other.
And men….wonderful beings women have been taught myths of which serve neither men nor woman or the relationships between them. Women contain men, not control them; knowing this difference is essential for happiness and success in marriage.
 This course you won't want to miss for learning about: 
 1.Honoring the sacred invitation for women and men in the powerful container we call marriage vs simply living an alignment of responsibilities and roles.
2. Receiving the invitation mid-life offers for exercising more the muscles of your soul and less the habits of control, insecurity, and fear.
3. Evolving your understanding of men and marriage, replacing myths that foster so much misunderstanding, pain,  and anger between men and women in relationship.
4. How exercising power as a women is different than simply picking up the current form of power from men.  (And no, it does not involve being naked in Saran Wrap!).
5. Dismantling myths about men, marriage, and the mid-life invitation to claim your purpose, power, and passion in life as a woman.
Join JaiKaur for an enlightening, provocative, and interactive 3 hours and you will leave thinking quite differently about your life, power, and your impact as a women in your relationships. Come with your questions, bring your friends, and leave inspired for living your power and grace as a women, for your life and the healing your world.
This course is from 1-4 pm with a fee of $97 and directions to The Center at Westwoods are available.  To register or for learning more about this course contact JaiKaur at jaikaur@jaikaur.com or phone 508.376-2146.  You must register no later than Saturday July 14, 2012 to attend the course-no walk-in registrations accepted.
JaiKaur mentors women committed to living the mastery of their power,  purpose, and presence as women, through discerning, deciphering, and developing partnership with life.  Through a unique and powerful palette of skills, wisdom, and resources,  JaiKaur's alchemy of mature wisdom, personal transformations, and contemporary spirituality offer powerful guidance, support, and wisdom for changing, claiming, and celebrating life as a woman.