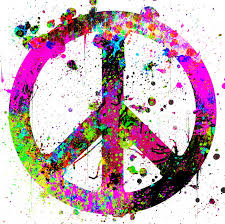 Don't worry, this is not a story of the often sad and scary news in our world today. This IS a story about how choosing not to go to war for peace will grace your life with the integrity and the peace you are seeking in life and the world.
10 years ago, my marriage of 25 years ended and I found myself alone with 3 children, the mortgage, and marital assets made unavailable through creative accounting by people considered friends-ouch! Person after person challenged me to go to war (court) for getting back what was mine, misconstruing my reluctance to do so as fear.
So what was my hesitation if not from fear?
I knew what my former husband was capable of (I'm a fast learner), but fear was not what was holding me back from going to court with my former husband. It was my clarity about the price my children would pay if I were to focus my time, energy, and resources on battling in court with someone who wanted a war. My children needed their mother to focus her time, energy, and resources on their needs as children, including peace in their home and in their family. My children needed me to choose war or peace.
I was faced with the choice to go to war for making peace with my finances- knowing my children would pay dearly for this choice- or making peace with life having a different plan for me. My wounded pride and sense of betrayal were romancing me onto war and yet silent on the true cost of doing so. Sound familiar? How many times have you found yourself at war for soothing pride injured or feelings hurt by someone you love? And only later, realized the cost to you or the relationship?
This was my hardest challenge so far in life and many were the days I did not know if I was capable of making a victory from what felt overwhelming and devastating. Yet embracing my faith and demanding grace be made tangible in my life had previously transformed my chronic illnesses into good health, my infertility into 3 children, and being without a home into a lovely abode.So was having 3 children to support, a mortgage, and no job the challenge given by life to break me or simply sacred faith in my integrity and faith?
There is a price for every choice you make; the choices which cost you are the choices out of alignment with your values. Your mind may convince you "it's ok, it's just this time, it's not a big deal", but your soul knows your integrity just got dinged and your self-respect pays a price. It's how we find ourselves in a world which considers going to war an acceptable means for creating peace, with civilians and children-the regrettable, but acceptable-cost of peace.
Where in your life or relationships are you living at odds with what you truly want, compromising what is true in your heart and soul?
Where are you going to war and telling yourself it's for peace? Do you offer yourself reasons practical or personal for doing so, selling yourself or life short? Take it from me, it's the little choices you make each day which build the muscles and courage of your integrity…..the integrity which gives you the strength and faith for when life challenges you to choose war or peace.