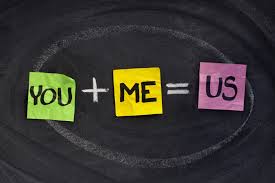 In my first article "The Trojan Horse Opportunity, Change, and Transition Offer Us", I wrote about challenges offering surprising gifts and invitations for increasing happiness and satisfaction in yourself and your life. In the second article "Learning to Trust Yourself and Life Again; Balancing Inner and Outer Authority", I wrote about how balancing the authority you give others with learning to call on your own (inner) authority, increases your satisfaction and integrity in life. And here is my new article "In a World Often Scary, Why Being Vulnerable is Essential":
Whether you subscribe to "leaning in", "leaning out", or "love will heal all", contemporary relationship is emerging as more than a role or a status. Contemporary relationship is a a powerful means for transforming conflict, a petri dish for self-discovery and healing, and an essential dynamic for pivoting the out-dated power over of position, privilege, and possessions into contemporary power with our challenges, courage, and creativity. Contemporary relationship embraces the power of our mind as well as the power of our heart and soul, scientific research showing our health and sense of well-being is in part a reflection of the health of our relationship with ourselves and with others.
Relationships take a lot of wear and tear in a world which can hold everything as up for sale. When we pick up our courage for honoring the sacredness, the nobility of ourselves and an other, our relationships begin to offer us what we all long for…..to be safely seen as imperfect as we all are. Our relationships offer us opportunity after opportunity for healing family patterns which create pain, for tending to our self-love and care, and for developing trust and faith in ourselves and with another. Honoring your relationships requires your courage for allowing the vulnerability (From Latin meaning "wound") essential for transforming the scary into compassion (From Latin meaning "to suffer with") with yourself and an other.
Choosing compassion when a relationship challenges your inner security is not overlooking the need for change in the relationship. Responding with compassion to emotions which scare you is courageously choosing to honor your relationships as powerful vehicles for tending to the fears and insecurities we all carry. Choosing compassion is not for wussies; compassion requires courage, honestly examining your feelings, and not blaming another for not being the way you want them to be. Choosing compassion is essential for living life less through fear and more through trust of the wisdom of heart to lead.
Extending to "the other" what you usually demand of them, begins healing wounds of the past, making room for the destiny of the future. Choosing to extend your compassion, your curiosity, your courage to when another triggers you, allows you to pivot fears into learning and allows the vulnerability necessary for true intimacy. When you choose to communicate more for understanding and less for making certain you are heard, you choose connection with vs power over another. Powerful powerful steps for the peace and joy we all long for and I believe, we were born able to create.
Coming next week is my fourth and final article in this series on the art and science of life contemporary. I am excited to share with you how learning to discern, decipher, and delight in the abundant guidance and support life offers us each day, provides support and guidance in a world demanding more than simply the facts of our physical senses. Sensory intelligence is essential for meeting a world awash in fact and figure information, yet challenging us to create solutions to what our minds believe is impossible. Great stuff!