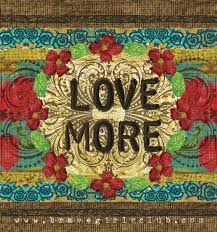 There is a deceptively simple suggestion I offer to people working on themselves or their relationships –"love more, care less". At first, most are surprised, for being told to care less is not what they are expecting from me. Yet, as I unfold more of what I am inviting them into, their bodies relax as they begin to feel the invitation into more love and less care-taking.
We've been taught good people care … good children (take) care of a parent's happiness, good people (take) care of other people's feelings (even if it means lying to do so), good people sacrifice themselves for (taking) care of others (often creating resentment towards the person they are caring for), etc. Yet did you know the root meaning of the word "care" is "to lament"? Often, caring carries the shadow of lamenting what is wrong with a person, a situation, whereas love offers compassion, patience, tolerance.
To love more care less brings love's clarity and courage for true (vs taking) care of another-to receive another as a divine being vs holding them as somehow lacking. Loving more and caring less became my mantra when my elderly and scared parents needed my care. Not as their child still reacting to them emotionally, but as a strong woman offering compassion and tolerance. Loving them more and caring less about what I thought best gave me a new compass to navigate caring for people who needed my best, not my history with them nor my reactions to their fear and anger at their growing old.
So how do you love more and care less in your life?
 As with all wisdom you embrace in life, apply to yourself vs telling others to do so. Offering yourself more love-more kindness, more compassion, more patience, more support, more acceptance – benefits you as well as serves to model and invite others to "want some of what you ordered". Care less whether you are doing things right, the best, perfectly, are enough, and watch the benefits spill over into your relationships as you judge yourself (and others) less and enjoy your life and the people in them, much more.
Let go of your expectations. Expectations are where you hold yourself, others, and life to desires which often have less to do with reality and more to do with your own inner critic and secret desires. Expectations in a relationship-be it with yourself or another-lead to nowhere happy, wreaking havoc with being present to when and where life offers you opportunities for love, connection, and joy. Too many relationships begun in love end up as power struggles destroying the love.
Realize the lens through which you view the world is not the same lens others are viewing the world through. The story of 3 blind people and an elephant illustrates well this wisdom.3 people blind were asked to describe an elephant and each did so from their experience of holding a different part of the elephant- trunk, leg, and ear. No two descriptions of the elephant were the same and yet all 3 were describing the same elephant. Consider how often you care that you are "right" when the truth is we are all right from what we have experienced. Learn to become more curious and less interested in being right.
Loving more offers more space for curiosity and discovery and less need to care and defend who and what is right. The world of once far-away countries is fast becoming a world of neighbors appearing quite different from us. When we care more about who and what is right and wrong, differences assume greater power. And when we offer love's gifts of inquiry and curiosity more, we realize more how much our neighbors and have in common with us, be it the desires for our children, for health and happiness in life, having the basic needs met for our family, and a common birthright as human to a life with dignity and respect.
Love is kissing cousins with respect, appreciation, honor and (taking) care is kissing cousins with control, judgement, and assumptions. One of the exercises I often engage in with my clients is clarifying what are truly their values for crafting a life with integrity to their deepest values. I have yet to have a client choose the values of more control, more judgement, more fear and plenty of clients excited about the values of more respect, more honor, more gratitude in their life. Love is the parent of values timeless in their power to inspire, to uplift, to joyfully live a life on purpose.
Loving more and caring less is not a call to not care and only love. It is a call to what holds power and insight in a world whose dynamics and truths are quickly changing from "power over" to "relationship with". Love's true nature is less the Hallmark version of sentiment and nostalgia and more akin to Mother Nature-vast, beautiful, powerful, caring beyond reason, and willing to die so life may continue. More and more I realize how critical it is for each one of us to become aware of what we are willing to die for, of what you commit your precious life to. We were born for the times we live in and fear and despair are calling for us to transform them into your devotion to loving…. more.