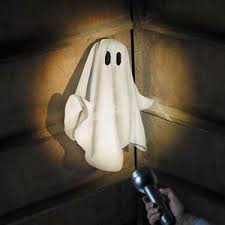 In my last article "The Calculus of Relationship"  I talked about how simply pointing fingers at who is wrong in a relationship not going so well, does not make things better. In this follow-up article, I talk about how what may be wreaking havoc in a relationship may not even be present. Yup, could be a ghost haunting your relationship!.
So what do I mean by ghosts haunting a relationship? Simply this-a lot of the battles you find yourself in with people close to you– your partner, your children, your parents or even yourself–can have little to do with the current situation and a lot to do with your past. Past humiliations, past rejections, past traumas all lend themselves to becoming ghosts haunting your life when they have not been resolved. I call them ghosts, for while the event was in the past, it's wielding a LOT of power in your present life.
For example, your parents believe/d control was next to God and a good child was a controlled child. Emotions? To be controlled with your parents deciding which ones you were permitted and which ones were punished. Fast forward to the conversation you are now having with your husband who keeps asking if something is wrong. You answer "nothing"….so why do you feel like crying-or throwing the glass you are using at his head!? Ahh…the ghost of emotions not permitted or punished is haunting your relationship with your hubby..
Or you hear yourself berating your daughter for an A- (vs an A) on her report card and become aghast as you realize you've become possessed by the ghost of your father who found "imperfections" unacceptable. Yikes! Or you make the opposite choice of allowing your teen to diss you, patting yourself on the back for not being a controlling parent. Notice the ghost cackling in the corner?
So what can you do when ghosts are haunting your relationships?
Call the Ghost Busters! No really, get some help. Ghosts can be hard for you to see as they feel and look familiar. What is familiar we are often reluctant to change for something unfamiliar, even if we are unhappy with the familiar.
Realize your ghosts can be friendly ghosts (remember Caspar?) trying to make life better for you. They are causing mischief to get your attention and where they are causing mischief is where they want you to pay attention.
There are common ghosts. The ghost of anger haunts most women; anger at their power and purpose as women having been dismissed and denigrated for generations. This ghost appears in women's relationships with men as belittling men or women withholding from men, their power to inspire and uplift.
Ghosts can be tricky. It is not uncommon for someone I am working with to describe the detested behavior of a parent and surprise! find that same behavior alive and well in themself! Argh. Ghosts remind us there is a difference between not liking a behavior and not having it haunt our behavior as well.
People are busy and time is precious. We are taught to ignore what is bothering us and to simply exercise more control or reach for our drug of choice. But "shoulda, woulda, coulda" are no match for the ghosts haunting our relationships or our life. As the Ghost Busters knew, people who know about ghosts are who you need to call when your relationships are being haunted by ghosts from your past.
Want some help exorcising ghosts in a relationship or life? I offer a free 60 minute consultation by phone for you to explore with me how to stop ghosts from the past from messing with your present and future. To schedule your free 60 minute session CLICK HERE .